Wheel deck
119 €
The same wheel deck as used in RiGiDity
Powder coated matte black aluminium
Width 500 mm | Depth 194 mm | Thickness 10 mm

For details, see product pic

Compatibility

Fanatec

DD1 and DD2 motors
Porsche wheel
CSR / CSW / CSW Adapter / CSL

Logitech G25 / G27 / G29

Thrustmaster T300 / T500RS
Note: Fixing bolts vary per wheel base and are not included. If you need bolts, mention it in order comments and we'll try to fulfill your request.
Related Products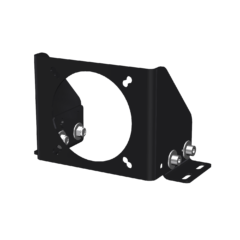 Mount for Simucube
Adjustable motor mount, compatible with:

Simucube 2 Sport, Pro and Ultimate
Simucube 1 with MiGE motors (20 and 30 Nm models)

Fits natively all Simucube 2 models as the mount has two sets of bolt patterns (Ultimate has smaller pattern vs. Sport & Pro)
Height and angle adjustable
Fits directly to an aluminium profile with a minimum of 40×80 spec
Measurements: see picture
All holes and slot holes for M8 bolts
Material: 3 mm steel
Surface: powder coated matte black
M8 bolts, nylock nuts and washers for fixing the 'paws' (part #2, see pic) to the mount are included
Note: regarding the upright direction (lowest) fixing bolts: depending on the rig / frame that the motor is installed, required bolt lengths vary. You can request bolts to be included in the delivery (mention it in order comments). We can't guarantee the extra bolts and nuts delivery but we'll do our best to fulfill the request.
59

€