SIMUCUBE Mount
69 € (55.65 € tax 0 %)
SPECIFICATIONS:
Maximum height 185 mm, minimum height 155 mm, width 164 mm, depth 128 mm

Net weight 1.3 kg

Max 20 degree tilt angle (Sport & Pro)

Max 12.5 degree*) tilt angle (Ultimate)
*if the rear of the Ultimate wheelbase touches the surface​

Material: 3 mm steel

78.4 mm x 66 mm hole pattern is compatible with many readily available deck mounts
​
Screws included in the package:
4 x M5x10 button head
4 x M5 washer
4 x M8x25 button head
4 x M8 washer
4 x M8 nyloc nut
4 x M6x12 cap head screw
4 x M6 washer
Available on backorder
Related Products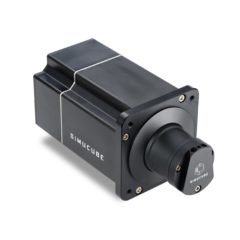 SIMUCUBE 2 Pro
Rev. 2 version: new power supply & longer power cable
25 Nm of torque is enough to give you deep immersion with any track, car and condition. With Pro one might forget they are in simulation.
Combined with exceptionally high torque response rate in Pro motor, the sharpest kinks will be delivered at a clarity not seen in Direct Drive scene before. Torque response rate is adjustable to driver's preferences.
Simucube 2 Pro is here to set the new golden standard for high-end class Direct Drive wheels. Scroll down for more feats and tech specs.
Need a wheel too? Click HERE
Product update from 6th September onwards: Quick Release Kit for wheel sold separately.
1469

€

– 1529

€