SIMUCUBE Mount
55.65€ (55.65€ tax 0 %)
SPECIFICATIONS:
Maximum height 185 mm, minimum height 155 mm, width 164 mm, depth 128 mm

Net weight 1.3 kg

Max 20 degree tilt angle (Sport & Pro)

Max 12.5 degree*) tilt angle (Ultimate)
*if the rear of the Ultimate wheelbase touches the surface​

Material: 3 mm steel

78.4 mm x 66 mm hole pattern is compatible with many readily available deck mounts
​
Screws included in the package:
4 x M5x10 button head
4 x M5 washer
4 x M8x25 button head
4 x M8 washer
4 x M8 nyloc nut
4 x M6x12 cap head screw
4 x M6 washer
Out of stock
Related Products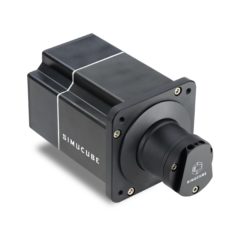 SIMUCUBE 2 Sport
Sport comes with 17 Nm of direct drive torque and SIMUCUBE 2 benefits. This wheel base is a match for Sim Racing enthusiasts.
SC2 Sport delivers serious amount of juice to bring up adrenaline filled sweat to the skins of drivers. Sport has comparable responsiveness and signal processing of the top-end models of world famous SIMUCUBE 1
Sport will be your key to the club of sim racing champions. Scroll down for more feats and tech specs.
Need a wheel too? Click here
Quick Release for wheel sold separately. Link to product site.
1023.39

€

(1023.39

€

tax 0 %)