Heusinkveld Sprint
133.06€ – 636.29€
Strong, compact and widely adjustable design
Precision laser cut steel, with grey anthracite RAL7016 and bead blasted semi-gloss surface finish
Maximum actual brake pedal load 65 kg
Brake feel easily adjustable with 6 different rubber stack heights and a spring for simulating free play before brake pads start to bite
Load cells don't wear out, are very accurate and insensitive to dust and dirt, features which make LCs the #1 solution for signal measuring in sim pedals
SmartControl software allows easy configuration of dead zones, brake force and non-linear pedal output curves
Base plate for Sprint pedals:

HERE
Related Products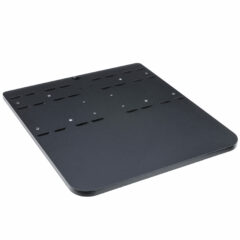 Heusinkveld Ultimate+ Base Plate
With the Sim Pedals Ultimate+ being able to cope with up to 140 kg of force, standard rigs often show excessive flex under these loads. This baseplate helps to create a rigid mounting platform for your Sim Pedals Ultimate.
The baseplate assembly consists of multiple elements: The main baseplate on which you mount the pedals, as well as two brackets which create ground clearance for the pedal bolts and nuts and provide mounting space for the pedal controller. The main baseplate element is 10 mm thick.
Please note that the Sim Pedals Sprint have their own baseplate and this plate is not compatible with Sprints.
104.03

€

(104.03

€

tax 0 %)