Heusinkveld Ultimate+
289.52€ – 1200.81€
CNC precision laser cut stainless steel with a glass bead blasted finish
Capable of handling up to 140 kg of actual force at the brake pedal (200 kg loadcell)
Compatible with Heusinkveld SmartControl software
EMC tested
Hydraulic damping on every pedal, custom made elastomers for a progressive brake feel
Electronics provide a full-range 12bit output for each pedal
Custom output curves can be freely configured and stored into profiles
All key pivot points have slide bearings and have gone through automated durability testing
Related Products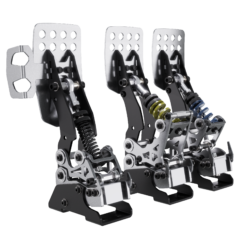 VX-PRO Pedals
Pedals with a price-performance ratio you've never seen. VX-PRO pedals are the end result of three years of development and include certain features from our R7 and Thera models.
Extremely wide and easy adjustments for the brake resistance combined with freely and independently adjustable "dual stage" functionality guarantees a braking feel that is perfectly tailored for you – the end result is full confidence even in the most challenging braking zones.
The high fidelity response of the throttle provides perfect control on the corner exits, and if you want to maximize control accuracy, check out our tilting heel support. We highly recommend the side support as well.
Mounting pattern: here
The unforeseen mechanical structure of the clutch pedal allows creating response profiles completely freely – end result being the best clutch we've ever used. Resistance can be adjusted in a matter of seconds from road car feel to race car feel.
Dan Suzuki's First Impressions review
BLACK FRIDAY OFFER VALID:
21 Nov 9.00am – 26 Nov 11.59pm (UTC)
160.48

€

– 547

€