Mount for Simucube
59 €
Adjustable motor mount, compatible with:

Simucube 2 Sport, Pro and Ultimate
Simucube 1 with MiGE motors (20 and 30 Nm models)

Fits natively all Simucube 2 models as the mount has two sets of bolt patterns (Ultimate has smaller pattern vs. Sport & Pro)
Height and angle adjustable
Fits directly to an aluminium profile with a minimum of 40×80 spec
Measurements: see picture
All holes and slot holes for M8 bolts
Material: 3 mm steel
Surface: powder coated matte black
M8 bolts, nylock nuts and washers for fixing the 'paws' (part #2, see pic) to the mount are included
Note: regarding the upright direction (lowest) fixing bolts: depending on the rig / frame that the motor is installed, required bolt lengths vary. You can request bolts to be included in the delivery (mention it in order comments). We can't guarantee the extra bolts and nuts delivery but we'll do our best to fulfill the request.
In stock
Related Products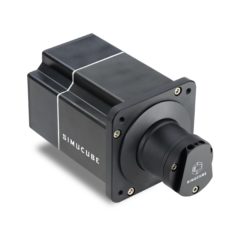 Simucube 2 Sport
Sport comes with 17 Nm of direct drive torque and Simucube 2 benefits. This wheel base is a match for Sim Racing enthusiasts.
SC2 Sport delivers serious amounts of juice to bring up adrenaline filled sweat to the skins of the drivers. Sport has comparable responsiveness and signal processing of the top-end models of world famous Simucube 1.
Sport will be your key to the club of sim racing champions.
– Scroll down for more feats and tech specs –
1279

€