Description
KEY FEATURES:
Max torque: 17 Nm
Wireless Wheel™ support:

Yes

Simucube Quick Release™ :

Yes

Torque reconstruction processing:

Yes

Static force reduction¹ :

Yes

Damping, inertia and friction filters:

Yes

Ultra low latency mode² :

Yes

Adjustable torque slew rate limit³ :

No

(Pro/Ultimate: Yes)
Non-linear force saturation⁴ :

No

(Pro/Ultimate: Yes)
Super Fine tuning filters⁵ :

No

(Ultimate: Yes)
¹ Allows reducing the static torque needed to turn the wheel on heavy cars while still passing thru fine force details
² Minimizes FFB delay, resulting in better responsiveness
³ Reduces the sharpness of the kick in high torque spikes
⁴ Reduces peak torque in non-linear way
⁵ Allows fine adjustment of detailed filter parameters
---
TECH SPECS:
Max torque slew rate: 4.8 Nm/ms
Angle sensor resolution: 22 bit
Power supply: 280 W
Size: 130 x 130 x 250 mm
Fixing holes: 4 x M8, threaded
Flange bolt pattern Ø: 145 mm
Flange centering Ø: 110 mm
Warranty: 24 months
---
INCLUDED IN THE PACKAGE:
Simucube 2 Direct Drive motor
Simucube Quick Release

™ –

motor side unit
50

.8 mm

– 70 mm wheel adapter
Power unit(s*) with euro electrical outlet**

*Simucube 2 Pro has 2 power units
**Euro utility cable

(s)

are

separately in the package and can be replaced with a cable that fits local utility socket

USB cable for PC connection
Quick start guide
---
MODEL COMPARISON TABLES: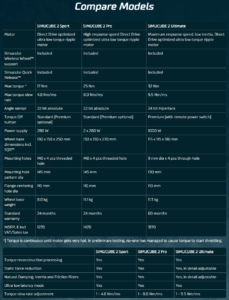 ---
Sport, Pro and Ultimate – an overview:
Simucube 2 comes in three models to serve the top-end spectrum of the direct drive scene. Specific models have been built to serve demanding Sport drivers as well as experienced Pro drivers. Hard-core drivers and professionals, who crave for experience outside of this world, are best matched with Ultimate which leaves no room for speculation.
All three models are built with industrial grade direct drive motors with essentially zero torque ripple and magnetic cogging. Angle sensors, drive electronics and CNC machined full-metal parts are made to complete the glorious motor and to unleash its maximum potential. Hot-swappable wheels, ultra low latency mode, high dynamic range, and natural signal processing are supported in all models. Electronics and software are fused together to form a flawless monolithic design. Everything is optimized to perform at the highest level, and with sub-millisecond latency.
Rigid mechanical coupling of the wheel is a fundamental requirement for direct drive. Simucube 2 is made to meet this requirement, even though it meant redesigning everything. Simucube Quick Release™, SQR, has zero backlash adding zero torque artifacts. When locked-in, it equals a solid metal shaft, just like it should.
Simucube 2 works with simulator games and reconstructs the authentic environment. Thanks to Simucube 2's dedicated processor for motor control, and another for interfacing the PC simulator, the ultra low latency is stable and consistent. With Simucube's award winning force reconstruction processing, ultra low latency mode and adjustable dynamic filters, the Driver can reach Realism.
Once you experience it, there's no turning back.