View cart
"Seat sliders Sparco" has been added to your cart.
SIMUCUBE Front Mount
149 € (120.16 € tax 0 %)
Compatibility:

Simucube 2 Sport, Pro, Ultimate
Simucube 1 and other 'previous generation' Direct Drive systems with MiGE motors 20/30 Nm

12 mm aluminium all plates
Matte black
Fits rigs with vertical profile (inner) distance 400-600 mm
Horizontal slot holes: max. bolt distance 550 mm
Adjustable tilt angle when side plates are used
Usually mounted to the vertical profiles of an aluminum profile rig
Multiple fixing points enable mounting to various types of (DIY) rigs
Out of stock
Related Products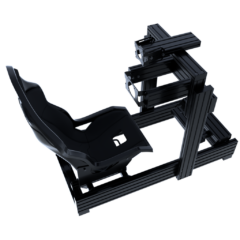 SIMGRADE° Elite Black
Angle brackets in sight? No? That's correct. In Elite, a direct bolt mounting method is utilized.
Result = fast & easy assembly, increased rigidity, wiiidely but easily adjustable, no squeaking when driving.
Are these features that you're looking for in a rig? If, yes SIMGRADE° Elite just might be your #1 choice of weapon.
Note: keyboard tray & mouse plate are optional. More features and specs: scroll down.
Specs: Front Mount
999

€

– 1048

€