SIMUCUBE 2 Quick Release wheel side
60.48€ (60.48€ tax 0 %)
Already own or planning to buy an extra wheel for your Simucube 2 wheel base? Attach this quick release to your wheel and you are set.
Wheel / rim compatibility:

6 x 70 mm pattern (by far the #1 standard)
Also included 50.8 ➜ 70 mm pattern adapter

Motor compatibility: Simucube 2 Sport, Pro and Ultimate
Zero backlash = zero torque artifacts, crucial when no more than flawless force feedback feel is the target

When locked in, equals a solid metal shaft. This is how it should be. And needs to be.

Precision machined aluminium construction with black anodized surface finish
30 mm spacer (use when needed)
Out of stock
Related Products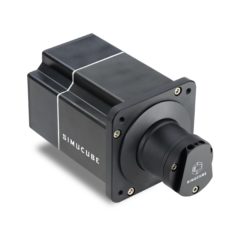 SIMUCUBE 2 Sport
Sport comes with 17 Nm of direct drive torque and SIMUCUBE 2 benefits. This wheel base is a match for Sim Racing enthusiasts.
SC2 Sport delivers serious amount of juice to bring up adrenaline filled sweat to the skins of drivers. Sport has comparable responsiveness and signal processing of the top-end models of world famous SIMUCUBE 1
Sport will be your key to the club of sim racing champions. Scroll down for more feats and tech specs.
Need a wheel too? Click here
Quick Release for wheel sold separately. Link to product site.
1023.39

€

(1023.39

€

tax 0 %)