Tilting heel support for VX-PRO pedals
63.71€ (63.71€ tax 0 %)
Supports driver's heel through the whole pedal travel range, eliminating need for repositioning your foot during racing.
In addition, sole of the foot sliding along pedal face is effectively in the history.
Briefly put, this brilliant kit brings comfort and input accuracy to a whole new level!
Compatible with all VX-PRO pedals; throttle, brake & clutch. Price is per one pedal.
In stock
Related Products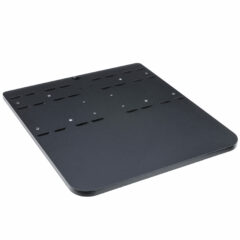 Heusinkveld Ultimate+ Base Plate
With the Sim Pedals Ultimate+ being able to cope with up to 140 kg of force, standard rigs often show excessive flex under these loads. This baseplate helps to create a rigid mounting platform for your Sim Pedals Ultimate.
The baseplate assembly consists of multiple elements: The main baseplate on which you mount the pedals, as well as two brackets which create ground clearance for the pedal bolts and nuts and provide mounting space for the pedal controller. The main baseplate element is 10 mm thick.
Please note that the Sim Pedals Sprint have their own baseplate and this plate is not compatible with Sprints.
104.03

€

(104.03

€

tax 0 %)