Tilting heel support for VX-PRO pedals
63.71€ (63.71€ tax 0 %)
Supports driver's heel through the whole pedal travel range, eliminating need for repositioning your foot during racing.
In addition, sole of the foot sliding along pedal face is effectively in the history.
Briefly put, this brilliant kit brings comfort and input accuracy to a whole new level!
Compatible with all VX-PRO pedals; throttle, brake & clutch. Price is per one pedal.
Related Products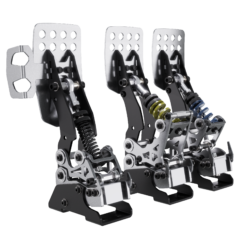 VX-PRO Pedals
Pedals with a price-performance ratio you've never seen. VX-PRO pedals are the end result of three years of development and include certain features from our R7 and Thera models.
Extremely wide and easy adjustments for the brake resistance combined with freely and independently adjustable "dual stage" functionality guarantees a braking feel that is perfectly tailored for you – the end result is full confidence even in the most challenging braking zones.
The high fidelity response of the throttle provides perfect control on the corner exits, and if you want to maximize control accuracy, check out our tilting heel support. We highly recommend the side support as well.
Mounting pattern: here
The unforeseen mechanical structure of the clutch pedal allows creating response profiles completely freely – end result being the best clutch we've ever used. Resistance can be adjusted in a matter of seconds from road car feel to race car feel.
Dan Suzuki's First Impressions review
160.48

€

– 547

€