View cart
"Keyboard tray" has been added to your cart.
SIMUCUBE Front Mount
149 € (120.16 € tax 0 %)
Compatibility:

Simucube 2 Sport, Pro, Ultimate
Simucube 1 and other 'previous generation' Direct Drive systems with MiGE motors 20/30 Nm

12 mm aluminium all plates
Matte black
Fits rigs with vertical profile (inner) distance 400-600 mm
Horizontal slot holes: max. bolt distance 550 mm
Adjustable tilt angle when side plates are used
Usually mounted to the vertical profiles of an aluminum profile rig
Multiple fixing points enable mounting to various types of (DIY) rigs
Available on backorder
Related Products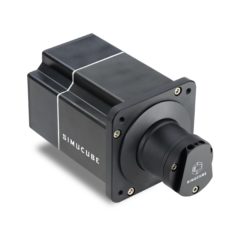 SIMUCUBE 2 Sport
Sport comes with 17 Nm of direct drive torque and Simucube 2 benefits. This wheel base is a match for Sim Racing enthusiasts.
SC2 Sport delivers serious amounts of juice to bring up adrenaline filled sweat to the skins of the drivers. Sport has comparable responsiveness and signal processing of the top-end models of world famous Simucube 1.
Sport will be your key to the club of sim racing champions.
Need a wheel too? Click HERE
– Scroll down for more feats and tech specs –
1249

€

(1007.26

€

tax 0 %)