View cart
"Steering wheel spacer 75 mm" has been added to your cart.
Rally Bundle QSP Leather 300 mm
679 € (547.58 € tax 0 %)
Included:
Need a wheel base as well? Remedy options here:
Already own a Simucube 2?
In stock
Only logged in customers who have purchased this product may leave a review.
Related Products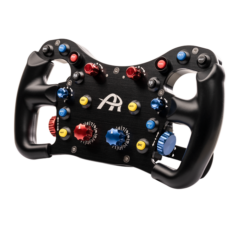 Ascher F64-USB V3
Maximum grip level from closed, ergonomic rubber grips
Platform independent USB connection
285 mm diameter
14 x push buttons with tactile feel
2 x multifunctional 7-way joysticks
2 x encoders (incl. push button functionality)
2 x 12-position rotary switches
2 x thumb encoders
12 x push buttons with tactile feel
Magnetic paddle shifters
Contactless motorsport clutch paddles
Labels included for various steering wheel inputs
1099

€

(886.29

€

tax 0 %)