Heusinkveld Ultimate
819 € – 1049 €
**SALE: New model coming up**
Compact and durable design using custom developed 12 bit USB electronics
Instant and accurate response
Maximum actual brake force 136 kg (300 lbs) measured with a 200 kg load cell
Maximum clutch force 45 kg (100 lbs)
Adjustable pedal geometry and pedal force
Adjustable hydraulic damping per pedal
Base plate for Ultimate pedals: click

HERE
You may also like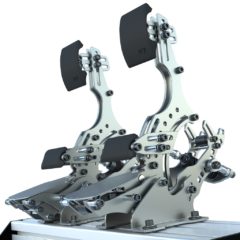 SIMGRADE° R7 Pedals
Product update August 2021:
⇒ Advanced brake kit & Heel supports included as a default!
⇒ Orders from 27/8/2021 onwards are delivered with the newest spec (like in Sim Racing Garage's review)
Looking to maximize pedal control and feed level accuracy? Look no further. All aspects of the R7 pedals have been designed with unmatched adjustability and best possible ergonomics in mind.
Packed with innovative features to match the driver's preference perfectly. Result: a level of control yet to be seen.
The essence of R7 pedals is to provide a competitive edge. It's up to you to capitalize on it.
Advanced brake kit (included as a default)
Heel supports (included as a default)

249

€

– 1299

€
Related Products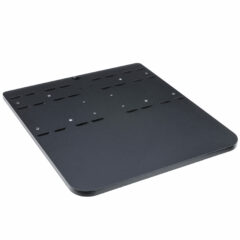 Heusinkveld Ultimate+ base plate
With the Sim Pedals Ultimate+ being able to cope with up to 140 kg of force, standard rigs often show excessive flex under these loads. This baseplate helps to create a rigid mounting platform for your Sim Pedals Ultimate.
The baseplate assembly consists of multiple elements: The main baseplate on which you mount the pedals, as well as two brackets which create ground clearance for the pedal bolts and nuts and provide mounting space for the pedal controller. The main baseplate element is 10 mm thick.
Please note that the Sim Pedals Sprint have their own baseplate and this plate is not compatible with Sprints.
99

€