R7 Fixed heel supports
69 € (55.65 € tax 0 %)
Prefer to use SIMGRADE° R7 pedals with a traditional, fixed heel support? Or individual support(s) per pedal? With this dedicated kit you're set.
Both options included:

Full width plate
Individual, per pedal supports

With individual supports, both or only one of the two can be used

For instance: use fixed support with brake but not throttle
In stock
Related Products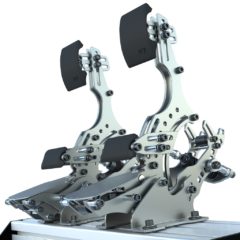 SIMGRADE° R7 Pedals
Looking to maximize pedal control and feed level accuracy? Look no further. All aspects of the R7 pedals have been designed with unmatched adjustability and best possible ergonomics in mind.
Packed with innovative features to match the driver's preference perfectly. Result: a level of control yet to be seen.
The essence of R7 pedals is to provide a competitive edge. It's up to you to capitalize on it.
Sim Racing Garage's review
Advanced brake kit (included as a default)
Heel supports (included as a default)

249

€

– 1299

€